CO HB19-1216: Reduce Insulin Prices
A bill that does not reduce insulin prices? 🤔
Key Takeaways
Does not actually reduce insulin prices, despite the title of the bill.

Caps the copay on insulin to $100 a month, regardless of type and amount, for persons with private health insurance plans in the individual, small-group and large-group marketplace. 25% of Coloradans are estimated to have these types of plans.

If the proportion of Coloradans with these plans extrapolate to the diabetes population as well, the bill could positively, rather than neutrally, impact 25% of Coloradans with diabetes. But, only the people who are currently paying more than $100 a month in copays — the number in which do remains unclear.

The bill constrains ways for some insurers to produce revenue off of insulin but does not limit insurers' power to produce revenue by other means. This means costs for insulin could be shifted to increases in premiums.
Introduction
Colorado HB19-1216, Reduce Insulin Prices, was signed into law by Governor Jared Polis in late May 2019. The bill is the first in the nation attempting to shield people with diabetes from the high prices of insulin and received rampant media coverage for being so.
The messaging surrounding CO HB19-1216 and it's impact on people with diabetes in the state of Colorado has been misleading and at times, completely false. Politicians, journalists and even the activists standing side by side with the representatives that created this bill, have contributed to spreading this misinformation.
As more states consider adopting bills similar to Colorado's, we must understand what these bills do, who they do and do not impact and in what ways, and analyze the power dynamics at play.
The official bill summary is as follows and the full-text of the bill, as signed into law, can be read here:
The bill caps the cost sharing a covered person is required to pay for prescription insulin drugs to $100 per one-month supply of insulin.

The bill requires the department of law to investigate the pricing of prescription insulin drugs and submit a report of its findings to the governor, the commissioner of insurance, and the judiciary committees of the senate and house of representatives.
The two parts of this bill include the copay cap of $100 per one-month supply of insulin and investigation into the pricing of insulin. This analysis will focus on the first part of CO HB19-1216.
The $100 Insulin Copay Cap
The first portion of this bill creates a new statute in Title 10 (Insurance) Article 16 (Health Care Coverage) in the Colorado Revised Statutes, "10-16-151. Cost sharing in prescription insulin drugs - limits - confidentiality of rebate information - definition - rules."
The new statute can be summarized as follows:
A "carrier" shall cap the total amount a person would have to pay for insulin to an amount that does not exceed $100 per 30-day supply, regardless of the type of insulin or the amount needed.

A carrier is not prevented from capping a copay to an amount less than $100 for a 30-day supply.

The insurance commissioner can use whatever powers it has to enforce compliance and can issue additional regulations as necessary to administer the statute or align with Federal requirements.
The most important piece to determine who will be impacted by CO HB19-1216 is discussing who a "carrier" is. A carrier is defined in CO Rev Stat § 10-16-102(8).
"Carrier" means any entity that provides health coverage in this state, including a franchise insurance plan, a fraternal benefit society, a health maintenance organization, a nonprofit hospital and health service corporation, a sickness and accident insurance company, and any other entity providing a plan of health insurance or health benefits subject to the insurance laws and rules of Colorado.
The Impact
Companies that are "subject to the insurance laws and rules of Colorado" and would be subject to implementing the copay cap would include companies providing private health insurance plans in Colorado on the individual market, small employer group market and large employer group market. These companies and plans are regulated by the Colorado Division of Insurance.
Health insurance plans where the copay would not be implemented include:
Medicare, a federal program.

Medicaid, a public coverage program in partnership with the state of Colorado and the federal government. Medicaid is administered by Colorado Department of Health Care Policy and Financing and is not regulated by the Colorado Division of Insurance.

CHP+, Colorado's low-cost program for anticancer children and pregnant women. Also, administered by Colorado Department of Heath Care Policy and Financing and is not regulated by the Colorado Division of Insurance.

TRICARE, under military jurisdiction.

Employer Self-Funded, large and/or multi-state employers often self-fund their health insurance plans. These plans are federally regulated under ERISA (Employee Retirement Income Security Act). Recent literature from the Colorado All Payer Claims Database suggests that 30% of insured lives in Colorado are through self-funded plans.
The Colorado Health Institute is a non-profit that has, in their words, "provided evidence-based data and information to inform policy, advance health, promote collaboration and support better access to care for all Coloradans." Every two years, they conduct the Colorado Health Access Survey which provides insights on how Coloradans receive health care coverage. Using their 2017 survey with additional data-points from TRICARE and the self-funded estimate of 30% of insured lives, we can estimate the number and percentage of Coloradans impacted by the $100 insulin copay cap.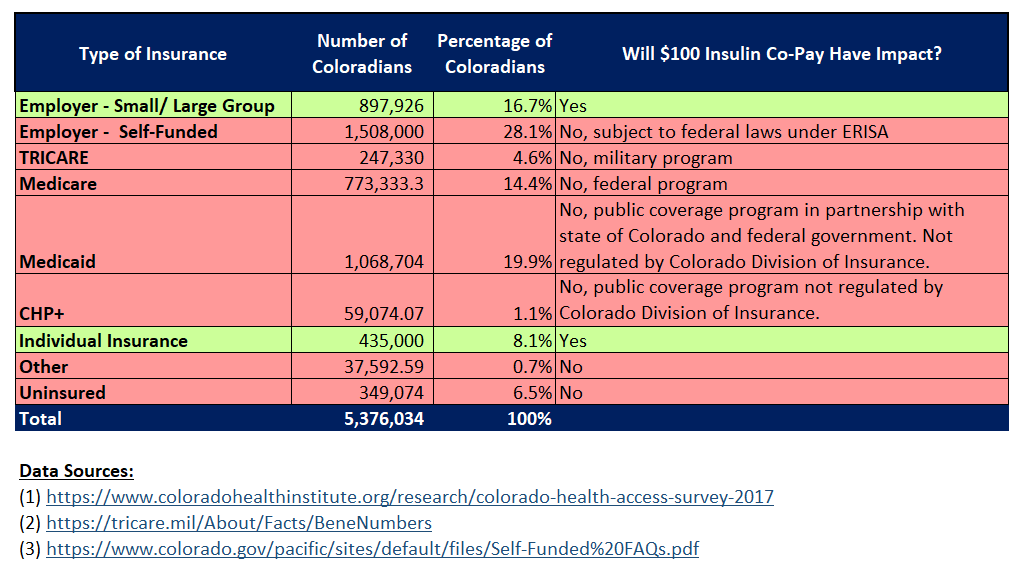 We can estimate that the $100 insulin copay cap would only impact around 25% of Coloradans with diabetes. And, that's only if the proportion of the types of health care plans of Coloradans as a whole translates to the population with diabetes. Of that 25%, it remains unclear how many are paying more than $100 a month for insulin currently. These are the only cases where the bill could have a positive, rather than neutral, impact.
The Power Dynamics
Despite the title of the bill, a $100 insulin copay cap does not reduce insulin prices. Insulin prices are the list and retail prices, where a retail price is what someone with diabetes would have to pay today to get a vial of insulin from a pharmacy paying entirely out of pocket without coverage. The retail price is indexed off of the list price, the price set by the insulin manufactures.
Insulin manufactures, insurers and pharmacy benefit managers all profit more when list prices are higher. CO HB19-1216 in no way limits or otherwise impacts the power insulin manufacturers have to set the price of insulin. The bill does constrain ways for some insurers to profit off of the high list price for insulin. But, because copays are not the only way insurers can produce revenue, insurers have the power to make up the difference by way of increasing insurance premiums. The cost of insulin to patients who are positively impacted by this bill by way of copay reductions could see their costs for insulin shifted elsewhere over time.
Ultimately, the "Reduce Insulin Prices" bill does not reduce insulin prices, positively impacts few Coloradans with diabetes and does not take away power from any players in the health care system. As more representatives look to CO HB19-1216 as a potential model for their own state, it is direly important to understand the actual impact on people with diabetes and look for ways to make this bill better — by actually taking away power from insulin manufacturers, insurers and pharmacy benefit managers or by actually expanding access to the people with diabetes who are the most marginalized.